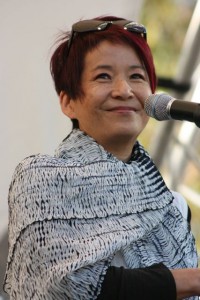 Annette has been a familiar face on Australian television presenting and producing many programs for the ABC and SBS including The Noise, Eat Carpet, Imagine, Studio 22, Media Dimensions and The Movie Show.  For a time she also enjoyed an international audience as the first network presenter on the satellite service, Australia Television.

 As an actor she was nominated for an AFI Award for her performance in Australia's first foreign language feature film, Floating Life, directed by Clara Law.  She has also appeared in guest roles on television series such as Crownies, Packed to the Rafters, Always Greener, Young Lions, the feature films The Home Song Stories, Subterano and several short films.
A former contributor to the Sydney Morning Herald, Annette's writing has been published in various anthologies, including Grandma Magic edited by Janet Hutchinson; Growing Up Asian in Australia, edited by Alice Pung; Family Journeys published by the National Archives of Australia; Come Away With Me edited by Sarah MacDonald; and the journals Meanjin and Life Writing.  Her book, Banquet – Ten Courses to Harmony, co-written with Greg Aitkin is part-social history, part-food culture, and won a Bronze Award at the 1999 World Food Media Awards.
As an MC she regularly facilitates high profile events for the Sydney Writers' Festival, OzAsia Festival and WOMADelaide.  A warm and engaging speaker, she has delivered keynote addresses many conferences and events, including the inaugural Asian Australian Film Forum in 2011, the Western Sydney Business Connection's 2011 Chinese New Year Dinner and featured in the 2011 Great Debate, a fundraiser for Dymocks Childrens Charity, appearing on stage alongside Adam Spencer, Rob Carlton, Virginia Gay, Richard Glover and Dan Ilic.
She programs and presents world music for Qantas Inflight Radio, and has presented radio programs for ABC Local Radio, Triple J and 2WS.
She is the writer/director of the iPhone app China Heart and associated website, a digital art project combining video drama, oral history, text, image and game playing to explore Sydney's Chinatown.
Annette serves on the board of the Sydney Writers' Festival and is President of the Asian-Australian performance and advocacy group, Performance 4A.  In the latter role, she produced COOLie a season of Asian-Australian performance as part of the 2011 Chinese New Year Festival, which played at Belvoir St and Riverside Theatres.